GP - Sydney CBD - 12 to 24 month contracts - Australia
Recruiter

Location

Sydney, Australia

Salary

Very competitive, contact Vicki for further details.

Closes

09 Sep 2017

Ref

VM4345

Role

Contract Type

Hours

Industry
GP opportunities Sydney CBD.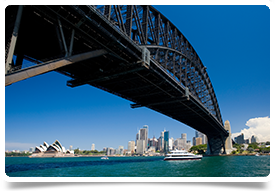 Our client is one of Australia's leading listed healthcare companies. For over 30 years they have been providing quality, affordable and accessible healthcare to the people of Australia. They have an expansive network of multi-disciplinary medical centres, pathology laboratories and diagnostic imaging centres.
They have over 70 surgeries across Australia and are currently recruiting for a number of GPs in Sydney, because they have so many practices you will be able to do 6 month rotations within Sydney city centre. For GPs who would prefer to be based at the same location rather than do rotations there are opportunities in DWS locations.
The practices are well established with large patient bases and supportive, experienced teams that will help new GPs settle in quickly. Senior members of the management team are UK GPs with over 20 years of experience.
Position
Billings 65% to 70% (subject to hours worked)
Most clinics have opening hours from Monday to Friday, 7am to 10pm and weekend opening hours, 8am to 10pm, for 365 days per year including public holidays.
Minimum of 40 hours per week, comprising of 1 evening shift (6pm to 10pm Monday to Friday) and 1 day on the weekend OR 1 day every alternate weekend.
Minimum contract term starts at 12 months
The Location
Sydney is a vibrant and cosmopolitan city, home to a mix of arts and culture, fantastic restaurants, exciting nightlife, some of the world's best beaches and a rich cultural heritage. It is a wonderful city and a destination that it is very hard not to fall in love with. Australia's oldest and largest city is set on one of the world's most stunning harbours, fringed by easy-to-reach, sandy beaches. The city has a sunny, moderate climate which contributes to Sydneysiders' relaxed lifestyle and love of the great outdoors. Sydney offers a secure environment for families, with excellent facilities, transport and telecommunications.

What Head Medical can do for you
Arranging a position overseas is very exciting, but we understand that it can also be daunting and time consuming. We're the UK's specialist in international medical recruitment and we've helped many Doctors relocate since we first started out in 2008 (you can read what people have said about working with us on our testimonials page). We know it's important to balance career opportunities with lifestyle and we'll talk through your plans and will get to know you to make sure we find the right role in the right location.

Once we have secured a job for you, we'll manage the Medical Registration and Visa application process, and support you (and your family) with the relocation itself.