General Practitioners - Qatar (NO ARABIC REQUIRED) - Gulf Region
Recruiter

Salary

Very competitive – contact Martin for more information.

Closes

16 May 2018

Ref

MM5361

Role

Contract Type

Hours

Industry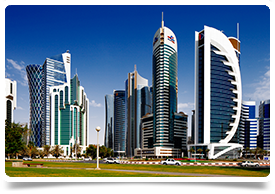 We are looking to hear from GP's who have trained in the UK, Ireland, Australia who hold a formal qualification within Family Medicine by exam.
Excellent Tax free salary on offer
School fee assistance
Accommodation provided
50 days annual leave
Flights home once per year
Fantastic opportunity to experience life and work in the Middle East with a competitive salary and excellent benefits package.
Requirements
You must possess MRCGP, MICGP or FRACGP by exam
In order to be considered, please submit the following:
Cv
Skype Id
Passport
MRCGP
CCT
Medical Degree
Proof of entry to GMC
Payslip
Location
Qatar provides a safe and family friendly expatriate lifestyle. There are fabulous shops, restaurants, museums, cultural events, world class universities and social and sporting clubs and facilities. The country is located on the east coast of the Arabian Peninsula, and with an area of 11,437 sq. km it's fairly small in land mass (roughly half the size of Wales). In 2010, Qatar had the world's highest GDP per capita, while the economy grew by 19.4%, the fastest in the world. The main source of Qatar's wealth is its vast reserves of natural gas which have made it one of the richest countries in the world.
Qatar is pressing ahead with ambitious social, economic and infrastructure development plans and will invest tens of billions of pounds in developing its infrastructure over the next 10 years. Rapid population growth is driving demand for accommodation (both residential and commercial) and medical and education services.
How Head Medical can help
Arranging a position overseas is very exciting, but we understand that it can also be daunting and time consuming. We're the UK's specialist in international medical recruitment and we've helped many Doctors relocate since we first started out in 2008 (you can read what people have said about working with us on our testimonials page). We know it's important to balance career opportunities with lifestyle and we'll talk through your plans and will get to know you to make sure we find the right role in the right location.
Once we have secured a job for you, we'll manage the Medical Registration and Visa application process, and support you (and your family) with the relocation itself.
To find out more, or to apply, contact Martin Merrick on +44 (0)131 240 5285 or email martin@headmedical.com